German Finance Minister : Spain doing "everything right"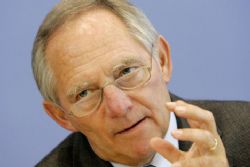 Spain is doing "everything right" with its reform measures but the country is suffering the effects of contagion from Greece, German Finance Minister Wolfgang Schaeuble was quoted as saying by Handelsblatt.
Schaeuble also said the euro zone needed to realise the medium-term project of fiscal union before discussing common euro zone bonds.
"The Spaniards are doing everything right and nonetheless they are coming under market pressure," Schaeuble told the daily. "We need to manage this ...through close and trusting coordination."
Sources told Reuters that Spain's Prime Minister Mariano Rajoy is pressing for a direct European rescue for the country's banks with moral support from the European Commission, but Germany is reluctant. Media reports say Berlin is instead urging Madrid to request a full international bailout.
Asked about possible additional burdens being placed on German taxpayers to beef up Europe's bailout funds, Schaeuble said his government would not raise taxes.
He said Europe needed to implement what it had agreed and fight problems where they arose without setting false incentives, as would be the case if debt was mutualised via the issue of joint bonds.
"The government has always said that before we can talk about common debt management, we need a proper fiscal union."
He said euro zone policymakers including the European Commission president and the head of the European Central Bank had been commissioned to develop a blueprint for fiscal union. But that was "a medium-term project," he added.