Spain bank troubles nag finance leaders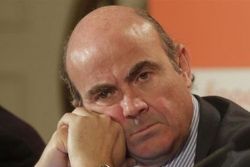 Growing fears for Spain's banks haunted international finance leaders at a conference on Thursday, prompting government ministers and a CEO to urge a quick bailout to stop the damage spreading through the European and global economy.
Speaking at the Institute of International Finance conference in Copenhagen, ministers stressed that the problems of the Spanish lenders reached far into Europe.
"We must find ways to deal with this fairly quickly because that is today the major threat to the world economy," Swedish Finance Minister Anders Borg told Reuters.
Urging the Spanish government to consider all options, Borg said: "What they need to do is to ensure that they have sufficient capital of their banks so that they do not pose a concern for all of Europe."
Spain, the euro zone's 4th biggest economy, has said its borrowing costs are becoming prohibitive and appealed to European partners to help its banks overcome the bad debt legacy of a burst property bubble.
"There is no doubt that the Spanish banks need support in one way or another, it can be capital from the government, loans, or both," Danske Bank Chief Executive Eivind Kolding told Reuters. "A solution needs to be found."
While Spain's direct government debt burden is smaller than others in the euro bloc, the needs of its banks and the debts racked up by its autonomous regions are driving it towards a bailout that would be far more costly than those rolled out for the much smaller Greek, Irish and Portuguese economies.
"We need direct recapitalisation of Spanish banks by euro zone funds," Polish Finance Minister Jacek Rostowski told the conference.
"It is a major mistake to have a system whereby recapitalisation of Spanish banks has to go through the Spanish public sector, increasing public sovereign Spanish debt," Rostowski said, adding: "I am actually very confident that a sensible solution to the Spanish banks will be arrived at very soon."
But Spain's Economy Minister Luis de Guindos said after talks at the European Commission on Wednesday there were no immediate plans to apply for a bailout.
An IMF report on Spanish banks will show Spain's troubled lenders need a capital injection of at least €40 billion, 2 financial sector sources told Reuters on Thursday.
The report, due to be published next Monday, will outline overall needs of 90 billion euros to clean up Spain's entire banking sector, with healthy lenders covering by themselves a big chunk of this sum, one of the sources said.
"The problems we hear about right now are not problems that will go away," Danish Finance minister Bjarne Corydon told Reuters on the sidelines of the conference.
"It is important that a solution is found, it is not a Spanish problem but a European problem," Corydon said. "Sooner rather than later."