National Day of Murcia : What's to Celebrate ?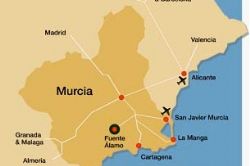 Saturday the 9th of June is the 'Dia de Murcia' - a day when the region comes together to celebrate their regional identity - and is particularly poignant this year as it marks the 30th anniversary of Murcia recieving official recognition for it's status as an Autonomous Community.
Although the region has been the focus of a number of contraversial major projects over the last 12 months it is perhaps the Reconstruction of Lorca , the delay of the AVE High Speed Rail Link , the construction of the Paramount Theme Park and the completetion of Corvera International Airport that have never been far from the front pages of the press - usually for all the wrong reasons.
It is therefore to be expected that the people of Murcia - and those of Spain as whole - will take this opportunity to ask when (and if) any of these major projects will be brought to completion and delivery the many benefits to the region that have long been promised.
Never one to shy away from any opportunity for publicity, Ryanair have also marked the occassion by launching an offer for flights from 11 routes to Murcia's San Javier Airport for 30.99 Euros for every Monday Thursday in July and August.
Although the airline's Head of Marketing for Spain claimed that tomorrow's offer was to celebrate Murcia's Fiesta day in conjunction with commemorating the 30 year anniversary of San Javier airport, Tumbit can't help but feel that Ryanair are using this as an opportunity to rattle the sabre infront of Aeromur and the consortium behind Corvera airport.