Increase in Spanish cycling accidents linked to recession ?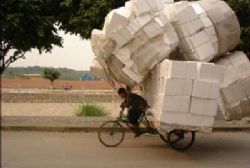 The Mapfre Foundation Institute for Road Safety has published a report, which shows how Spain is the worst offending country for the fatality of road cyclists involved in road accidents.
Over the course of 2010 a total of 67 fatalities occurred on Spain's roads, representing an increase of more than 20% on the previous year. A further 564 cyclists also obtained 'serious injuries' as result of being involved in road traffic accidents.
The majority of the fatalities involved accidents on highways.
Alfonso Triviņo, spokesman for the Professional Cyclists Association, noted that the increase in fatalities corresponded with the economic troubles that the country is currently contending with : "The crisis has forced people to ride to work on bicycles and the politicians still don't understand the need to build bike lanes".
Ireland, Latvia and Belgium fell behind Spain in the survey, but cyclist deaths in those countries were attributed mostly to bad weather rather than being road traffic accidents.