Dismissed BoS Governor speaks to Congress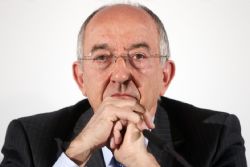 Miguel Angel Fernandez Ordonez, the Governor of the Bank of Spain due to step down this weekend after almost 6 years in office, has exersized his right to address congress.
The Governor took the opportunity to speak directly to the Government, particularly the Minister of Econony, Luis de Guindos, who he has had frequent disagreements with, to emphasise the importance of maintaining the independence of the institution as a means of restoring market confidence.
"In the difficult situation being experienced by the Spanish economy, the most critical variable is not, however serious its recent evolution, neither growth nor unemployment, but the decline in confidence," he told the Governing Council Bank of Spain.
He added: "There is no more important and urgent task in the short term to regain lost confidence, and it is essential for a joint effort of all political, economic and social and all the institutions responsible for the definition and implementation economic policy."
Ordonez also admitted there had been management errors during his time in office, but maintained that all decisions had always been made professionally.
His dismissal came the day after the PP blocked his appearance before Congress to account for the recent Bankia crisis.