Bankia investors to start compensation claim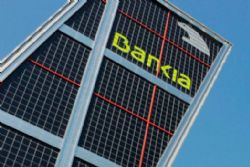 A group of small shareholders in Spain's bailed-out Bankia will add to a growing flurry of legal claims against the bank with a civil claim next week, as they seek compensation for investments that have been all but wiped out.
Bankia, at the heart of a banking crisis that looks set to push Spain to ask for a bailout, has asked for a €19 billion euro state rescue.
The bank was nationalised less than a year after its listing on the stock exchange, when an aggressive advertising campaign encouraged many ordinary Spaniards to invest through their bank branches.
About 400,000 small shareholders bought the stock, while around 100,000 others ended up with preference shares as savings products. Many now claim key information about the state of the bank could have been withheld from them.
The shares have fallen over 70% this year alone as worries about the real estate holdings of the bank heightened. Much of Spain's banking troubles stem from the bursting of a property bubble, fed during the previous decade by low euro zone interest rates and a global credit boom.
The Spanish Association of Minority Shareholders in Public Companies, AEMEC, said on Saturday it had put together a group to pursue a civil claim against Bankia as an issuer, alleging irregularities in the way the listing was handled, according to their lawyers Cremades & Calvo-Sotelo.
About 1,000 people have so far shown firm interest in signing up, the association said.
AEMEC will request information from Bankia next week via a court petition to build their case, looking at whether information in the prospectus handed out to shareholders was omitted, or was misleading.
"They sold us something false with Bankia," said Pedro Lorenzo, 70, a former driving instructor who retired last year after business dried up, and who invested just over €7,000 euros into Bankia shares in the initial public offering (IPO).
"They knew what the bank was like. They didn't tell the public the truth," he said, adding he blamed "those right at the top", including the bank's management, the Bank of Spain and the securities regulator CNMV.
Bankia declined to comment.
POLITICAL EMBARRASSMENT
Other legal claims are also in the works, including one by a consumer group, and last week the backlash against the handling of Bankia took a new turn when Spain's public prosecutor opened an investigation.
That probe, instigated by advocacy group "Clean Hands", could end up at the High Court. A small political party has also said it is seeking to launch criminal proceedings.
These claims could end up being directed at Spanish authorities like the Bank of Spain or Bankia's management, including former chairman Rodrigo Rato, who oversaw the listing.
Mainstream political parties have so far shied away from a full-on inquiry that could be embarrassing - Rato served as economy minister when the ruling People's Party was last in power.
The investment banks that advised Bankia on its listing could also end up being dragged into inquiries. Ignacio Aragon, a lawyer at Cremades, said they would study whether to bring the banks into the claim. These included Bank of America Merrill Lunch, Deutsche Bank, JPMorgan and UBS.
Some small shareholders have said they felt pressured into buying the shares, and were hounded with calls to their homes and told to switch their savings investments to Bankia shares.
Lorenzo, the ex-driving instructor, said he did not blame Bankia employees in bank branches for his decision to buy shares.
"They didn't pressure me ... I've bought shares in other things before," he said. But he said he was offered the shares just after his 4% savings investment expired, which the bank would not renew. His Bankia investment has lost him over €5,000 euros so far.
"What I want is my money back," Lorenzo said.