Corvera Airport 'Operational by October'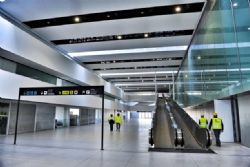 The president of Murcia, Ramón Luis Valcárcel, spoke to the regional parliament last week, where he told the assembly that he was not prepared to make further cuts in public spending, but that as a consequence of this, certain projects may need to be 'downsized'.
It is fair to assume that the reconstruction of the town of Lorca and the regional government's involvement in the financing of Corvera International airport will be affected in some way, in addition to further projects in the region.
On Lorca, the President commented that the region "had to hasten the arrival of aid, so arranged this by means of arranging a loan of 115 million Euros", and rejected criticism that less than half of this amount had actually been spent to date or could be accounted for.
The President also rejected criticism of Corvera airport, saying how the Public-Private initiative was a business model that was still in the best interests of the airport. He also confirmed that when he called central government some weeks ago following claims that the airport was in breach of a number of environmental regulations that "they had no knowledge of this".
Towards the end of his speech the President maintained that the airport was on course to be operational by October.