Ireland says Spain did not get a better bailout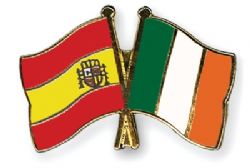 Ireland's government on Monday scrambled to respond to claims Spain had secured a better bailout from Europe, saying its own deal was in some ways more attractive and insisting its lenders would match any concessions offered to Madrid.
Euro zone leaders' decision to grant Spain up to Ä100 billion in funding for its banks without entering a full-scale rescue, has raised hackles from the Irish opposition, who say the government has been outmanoeuvred.
While Spain will join Greece, Ireland and Portugal in receiving a European financial package, the aid will be focused only on its banking sector and it does not appear to have committed to additional austerity measures or structural reform.
"They got the exact same deal that we got," Deputy Finance Minister Brian Hayes said with irritation during an interview with RTE national radio on Monday when asked if Spain had got a better deal.
"That the money Spain is getting is cheaper than the money we are getting - that is fundamentally a lie," he said, rebuffing claims by the opposition that Spain would get funding at less than the average 3.7% interest rate on Ireland's Ä85 billion euro bailout signed in 2010.
RAISED EXPECTATIONS
The government had built up expectations in recent weeks that a bailout of Spain would help Ireland secure a better deal on refinancing some of the tens of billions of euros of debt the government took on to recapitalise its banks.
Some of that debt was raised through a 2010 EU/IMF bailout programme, which the government is not trying to change, but most through government-issued promissory notes, which Ireland wants Europe to help refinance.
Irish ministers wanted Europe's bailout funds to lend money directly to Spain's banks to avoid putting the burden of private sector losses onto the ordinary tax payers and saying it would set a precedent that Ireland could apply retroactively.
But the euro zone's 17 finance ministers, the Eurogroup, on Saturday said the Spanish government would retain full responsibility for repaying the funds, dashing Irish hopes for a swift improvement in its terms.
Mariano Rajoy's claims on Sunday that he scored a victory by securing aid without submitting to a full state rescue programme further embarrassed the Irish government.
"Many Irish people looking at the deal today will be asking themselves why is there one set of conditions for us and another for Spain," said Pearse Doherty, the finance spokesman of the opposition Sinn Fein party.
"Clearly the Spanish government has secured a better deal."
EQUIVALENT TREATMENT
But PM Enda Kenny said on Monday that Ireland already has some advantages over Spain including having until 2015 to cut its budget deficit to 3 percent, a year after Spain.
While Spain may be forced to apply preferred creditor status on its loans from Europe, making their new bond issues less attractive to investors, Ireland's bailout does not require this, deputy finance minister Hayes said.
And if Spain is offered interest rates and repayment periods that are more beneficial than those offered to Ireland, Dublin would seek and expect "parity and equivalent treatment," Europe Minister Lucinda Creighton said.
Irish economists said a direct comparison of the terms would only be possible once the final details of the Spanish loans are agreed later in the month.
"In terms of the impact on Ireland, it does not alter our expectations," said Brian Devine, chief economist at NCB stockbrokers in Dublin.