Spain Bailout Short Lived Relief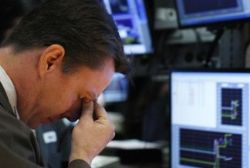 After the news of Spain's €100m bailout from Europe over the weekend, Monday's markets across the world rose as some confidence began to return to the striken peninsula.
However, the vicious circle of sovereign and bank debt problems is unlikely to be broken as fears that further downgrades of Spain's credit rating will be inevitable pushing up borrowng costs even further and forcing financial institutions to heavily discount assets in return for loans from the ECB.
Spain currently only has one A credit rating left (A3) with Moody's Inverstor Service. If it should be downgraded the effects could be devastating and push Spain into much deeper problems.
Currently Spanish bonds are already hard to sell even after being heavily discounted. The problem is that Spanish banks have always bought Spanish bonds from the government, but most banks are now offloading them to raise capital and ultimately flooding the market.
Steadying the markets won't be easy as more and more investors are shifting away from Spain into safer havens such as the UK.
Economies around the world have their eyes firmly fixed on Europe as it appears the bloc is at the centre of the worldwide economic downturn of 2012 and any reversal back to growth will need to begin in Europe.