Merkel praises Spain's aid request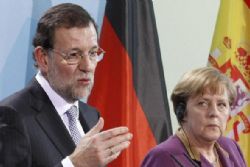 Germany's Angela Merkel praised on Tuesday Spain's decision to request EU aid to recapitalise its banks but criticised the EU banking authority that supervised "stress tests" for failing to show up the shortcomings of the Spanish banking system.
"It was right for Spain to ask for help recapitalising its banks," said the chancellor, adding that the cause of Spain's crisis was "the Spanish property bubble of the last 10 years" rather than macroeconomic factors.
The European Banking Authority's remit had been undermined by national oversight bodies acting "out of misguided national pride", which had led to inaccurate stress tests, she said.
"If we need European institutions that provide better oversight of banks, we have to be prepared to give up more national supervision," Merkel told a meeting of conservative supporters from the German business world in Berlin.
The centre-right chancellor again rejected calls for common euro zone bonds, calling the debate an unwelcome distraction, and added that her country could not condone proposals that would only exacerbate the sovereign debt crisis.
"Germany - and I can say this for the whole country - is prepared to do more on integration but we cannot get involved in things which I am convinced will lead to an even bigger disaster than the situation we are in today," said Merkel.