Fitch cuts Spanish banks after sovereign downgrade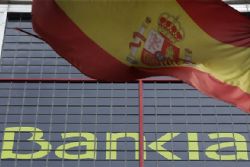 Fitch Ratings yesterday downgraded 18 Spanish banks less than a week after the agency cut the country's sovereign debt rating, underscoring the potential for lenders' assets to deteriorate further.
Fitch, who already cut Santander and BBVA on Monday, cut the ratings for CaixaBank, Bankia, Banco Popular Espanol and others.
"In particular, Spain is expected to remain in recession through the remainder of this year and 2013 compared to the previous expectation that the economy would benefit from a mild recovery in 2013," Fitch said in a statement.
"The institutions affected by today's rating actions are purely domestic banks. Thus, their revenue generation capacity, risk profile, funding access and cost of funding are highly sensitive to the evolution of Spain's economy and its housing market."
Last week Fitch slashed Spain's rating by three notches to BBB.
Moody's Investors Service rates Spain A3, and Standard and Poor's rates the country BBB-plus. Those ratings, as well as that of Fitch, carry a negative outlook.
Euro zone finance ministers agreed on Saturday to lend Spain up to €100 billion to shore up its teetering banks. Madrid said it would specify precisely how much it needs once independent audits report in just over a week.
Spain's banks have been beset by bad debts since a property bubble burst.
The Spanish government has already spent €15 billion bailing out small regional savings banks that lent recklessly to property developers.
Spain's biggest failed bank, Bankia , will cost €23.5 billion euros to rescue, and its shareholders have been wiped out.