Asturian Miners continue to cause chaos with strike action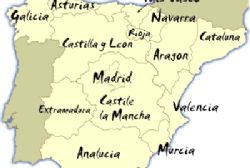 On any other week it would have dominated the headlines in the national press, but it seems that the strike action taken by Spain's Miners in the Asturias region this week has gone largely unnoticed.
Last week 8'000 striking coal Miners took action by introducing picket lines and blocking around 16 roads and motorways, together with 2 major railway lines which has paralysed most of northern Spain.
In the capital an estimated 10'000 supporters of the Miners took to the streets to march last week, where they clashed with Police.
They are protesting over a cut of €190million in subsidies to the mining sector by the central government, which many claim will lead to a total collapse of the industry - causing the cost of Spanish coal to skyrocket and therefore exposed to more competetive foreign imports.Miners from around 40 coal mining plant expected to be affected by the cuts - all located in the Asturias region - have joined in the action which has resulted in a number of arrests and injuries to both activists and the Police.
The Asturias region has a strong tradition of coal mining and a bias towards left-wing governments. In 1934 striking Miners in the region stood in opposition against General Franco, which resulted in the deaths of over 1'500 Miners, 200 Civilians and 280 Police.