Castellon Airport "Operational this year" : Fabra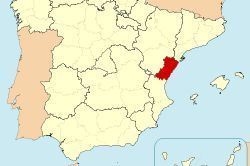 Earlier today Carlos Fabra, President of Aerocas, told the Castellón Chamber of Commerce on Wednesday that it is in negotiation with a company interested in operating 'around 1,000 aircraft loads per year' from the airport, which, in his view, "shows significant interest not only in the number of passengers but also in terms of goods."
Fabra went on to discus the ongoing validation of the airport, saying how Aerocas has had a further meeting with the multinational Deloitte, who are undertaking the process, and said how he was hopeful that the airport will be operational by the end of the year.
Fabra has previously commented how the airport is "very important" and that "only the useless and incompetent are the ones who are against an infrastructure that is absolutely crucial to the development of the province"
Upon being asked why there have been so many delays with the agreement at the dealership, Fabra stated that "problems arise every day", but that "there is absolute willingness of Airport Concessions and Aerocas to bring an end to negotiations in the very near future and reach an agreement that will be satisfactory to all parties."