Spain's Indignatos Out Of Sight But Not Out Of Energy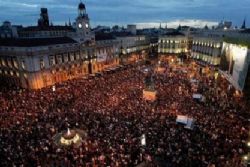 Spain's infamous Indignatos have been a little absent from the headlines for a while, however their efforts continue at street level growing their network and supporting victims of the financial crisis.
The protest action group has formed a network of Aid Centres supplying food, advice and support for victims, who in most cases are being forced to live below the poverty line. Food is donated by local shops and producers and collected by volunteers who themselves are in need of the support the Indignatos provide.
Originally organised in protest over financial injustice within Spain, their non-violent approach to protest through occupation was slow to reach major headlines. But as their numbers grew so did their support as similar protests emerged across the country, then across the world.
Many believe their approach was inspiration for the Arab Springs in 2011 which saw several institutional governments and regimes topple due to overwhelming people power. Together with pressure from the international community, the protests were successful.
Law enforcement agencies across the globe were embarrassed by their own inability to disperse the protestors. In some cases the Police resorted to violence as their frustrations grew, however the Indignants remained calm and refused to be dragged into violent clashes.
However as the financial crisis deepens, it is likely more and more will seek the assistance of the Indignatos, who so desperately need donations of food and the time professionals can give to further support their cause.