Bank audit shows Spain needs a further €60-70 billion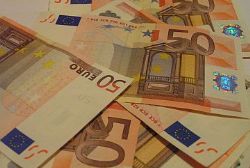 An audit of Spain's banks showing how much extra capital they need should be completed by Monday, two sources told Reuters on Thursday, with one saying cleaning up the sector will cost €60-70 billion.
The audit from consulting firms Oliver Wyman and Roland Berger was due by June 21, but will be moved forward because PM Mariano Rajoy wants it in hand when he attends a G20 summit in Los Cabos, Mexico, early next week, the sources said.
The independent assessment was a key condition for the €100 billion financial package agreed on Saturday to shore up the battered lenders, weighed down by soured real estate assets and a plummeting property market.
But it risks being overtaken by events, as investors are unconvinced the bank rescue package will enable Spain to get its finances under control without a full-fledged bailout.
Yields on the country's benchmark 10-year bonds hit a euro-era high above 7% on Thursday - levels the country's economy minister said could not be sustained for long - after Moody's cut the country's credit rating to one notch above 'junk'.
"The government will have the headline figure from the auditors on the needs for the Spanish financial sector on Monday. The objective is to go the G20 summit with this piece of information," said one of the sources, who is close to the situation.
The other source, in the financial industry, who gave the overall figure, said it would include €19 billion for Bankia and about €20 billion for NovaGalicia and CatalunyaCaixa - all 3 already rescued by the Spanish government.
CLEAR DIVISIONS
That would be in line with findings from the International Monetary Fund which said in a report last week that Spanish banks needed at least €40 billion to weather a severe downturn with a spike in defaulted loans, with a cushion on top of up to €40 billion.
This range is also the one expected by analysts.
"For me it seems pretty clear that final cash gap could be around €60 billion precisely because we have just seen an amendment to Spain's budget where the government has authorized a credit line of up to €66 billion for the FROB," said Jose Carlos Diez, chief economist at Intermoney Valores.
The amendment was passed this week and it will enable Spain's bank restructuring fund - the FROB - to have more room for manoeuvre when it reshapes the sector.
Wyman and Berger are carrying out the audit, which will recommend the amount needed to clean up the banks based on a scenario of a possible severe economic downturn.
Analysts say that the outcome could establish a clear division between the weakest savings banks, among them the trio of already nationalised institutions, and some of the mid-sized banks, and then the most solid and internationally diversified BBVA and Santander.
Spain's banks lent heavily to real estate developers during a decade-long property boom that ended in 2008, leaving creditors with bad loans to housebuilders, unfinished apartment complexes and brownfield sites.
European leaders want the rescue deal wrapped up by their summit in Brussels on June 28-29. Before then, next Thursday, European finance ministers meet and the following day Rajoy will meet in Rome with the leaders of France, Germany and Italy.