Spain recovery implies a 25% fall in house prices : S&P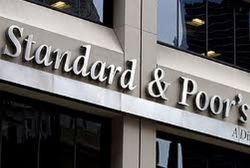 Although house prices in Spain have dropped a nominal 22% since first-quarter 2008, Standard & Poor's economists said today that the fundamentals point to a further 25% decline.
"House prices in Spain are a key variable in the performance of the country's economy. The housing boom built up unsustainable imbalances, such as an oversupply of dwellings, which will need to fully correct before a sustainable recovery takes place," said Jean-Michel, Standard & Poor's chief economist in Europe, the Middle East, and Africa.
The bursting of the real estate bubble is visible in Spain's dire economic prospects: Standard & Poor's expects GDP to contract in real terms by 1.5% this year and by 0.5% in 2013, in a report published today "Spain's Housing Market May Need Four More Years To Rebalance."
Investment and employment in the construction sector are now down to 12.7% and 6.8% of GDP, close to half of 2006 and 2007 levels, respectively.
The report looks at each of the major trends affecting Spain's residential real estate market--the housing overhang, household debt, housing price ratios, and unemployment.
For Spain's housing market to recover, household debt, which is still high, needs to come down further, implying years of weak credit demand.
Because of the heavy weight of unsold housing stock, we believe that the correction in housing prices is likely to be deeper and more prolonged than in the previous cycle: it could take up to four more years for the market to absorb the glut.
In February 2012, as the unemployment rate reached 24%, doubtful loans reached 2.8% of total housing loans, a ratio that appears still reasonably low.
But as the economy continues to weaken, we will continue to watch that indicator carefully as a potential harbinger of additional financial difficulties in the household sector.