Los Indignados file criminal complaint agianst Bankia chief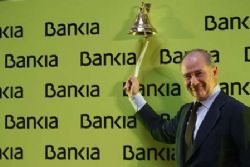 Activists from the 15-M protest movement yesterday filed a criminal complaint against former Bankia president Rodrigo Rato at the High Court, accusing him of accounting and financial fraud in connection with the government's intervention of the commercial bank last month. The complaint also names Bankia and its parent Banco Financiero y de Ahorro (BFA) as co-defendants.
Lawyers for the movement claim that Rato, along with others, presented false figures last year to help with its stock market flotation and rake in investors through this fraudulent scheme. They are asking that the High Court sentence Rato, a former economy minister and IMF managing director, to between 1 and 6 years in jail, bar him from conducting financial transactions for a certain period, and order him to pay fines.
This is now the 3rd such complaint filed against Bankia and Rato. The UPyD party and the obscure rightwing union Manos Limpias have also filed charges against the bank and its former president.
On May 28, the Attorney General's Office opened an investigation into Bankia after the bank and BFA requested €19 billion from the government to clean up its balance sheet, which was hit hard by the slump in the real estate market. Bankia, which was formed last year through the mergers of Caja Madrid and Bancaja plus five other savings banks, was listed on the stock market in July.
The 15-M movement last month began seeking donations on its website to pay for attorney's fees in this case. In less than 24 hours, the group collected €19,413 in small contributions from hundreds of citizens.
Meanwhile, Rato has offered to forego the €1.2 million euros he is entitled to from Bankia in exchange for the lender not enforcing a clause in his contract that bars him from working for a rival for 2 years after his departure.