Spain : Reasons to be cheerful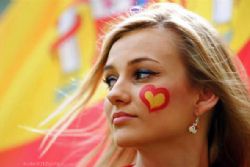 Negativity and pessimism is probably not only the most infectious of all diseases, it is also sadly quite often evident in the most sensational and most newsworthy of all current affairs concerning Spain at the moment.
And quite frankly, the headlines in the Spanish (and international) press over these last few weeks have been depressing the hell out of Tumbit.
So after chatting amongst ourselves and rumaging through this week's news we have found the following reasons to be cheerful about life in Spain at the moment :
1) The €100 Billion bailout : Although it sounds like a TV gameshow, surely it has to be seen as a positive thing ? - Why ? - Well ANY action, no matter how tardy, humiliating or extreme has to better than no action at all !
2) The Spanish Weather : Shaping up to be one of the best Spring / Summers in recent years - reminding us why we all moved to Spain in the first place.
3) The British Weather : Shaping up to be one of the worst and wettest Spring and Summers in recent years - not only giving us ample gloating fodder over our friends and family in the UK, but also providing Spain with a much needed boost in those seeking last-minute summer holidays.
4) Euro 2012 : Not only is it a possibility that Spain could become the first and only Country to have ever held the European Cup / World Cup / European cup in succession, but the 3 - week event has provided a much needed boost to the country's bars and pubs. English expats across the country are supporting the native team Spain as much as they are the English team - There is a chance both teams could meet in the quarter-finals…
5) Wimbledon : Come on Nadal ! Despite the injury problems Nadal has been plagued with over the last few years, he has beaten the odds and come back in style winning his 7th Roland Garos title and setting a new world record. Whilst Brits will be out in support for scot Andy Murray, secretly they all prefer Nadal to win !
6) The London Olympics 2012 : A Chance for Spain to assert itself once again as dominant sporting nation ?
7) Self-Employed Workers : If approved by Parliament, it looks likely that the personal assets of Autonomo's will be protected in the event of the unthinkable happening. Surely a good thing to encourage and stimulate the economy ?
8) The Price of Fuel : At least it seems to have fallen in recent weeks, despite the whole "Repsol : Argentina" episode. The worldwide economic crisis has highlighted how companies are organized and run and oil companies appear to be in the same demon club as bankers ! With interest rates at their lowest levels in history, you would expect things to be much cheaper… But no, not only have the banks destroyed what little respect they already had from us, they go and pump up interest rates on mortgages, loans and credit cards. Oil companies decide they want a piece of the action also and force the price of oil to extrodinary levels affecting everyone. These companies then bleat about there being no growth in the economy… They should really be doing everything they can to grease the wheels of recovery so to speak !
9) Property Prices : Good news for potential buyers of Spanish property - the exchange rate and current market prices mean that there are literally thousands of bargains to be had.
10) The Future : Surely everything that happens to the economy from this point on must be an improvement ...?