Striking Miners clash violently with Police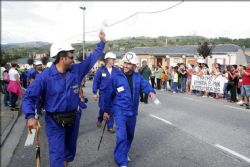 Strike action from the protesting coal miners from the Asturias region yesterday escalated into violence, leaving 7 people with injuries - 2 of them reported to be serious.
The group of around 8'000 miners are striking over the Government's proposal to slash subsidies from €300 million to €110 million per year, which the industry claims will result in foreign imports of coal becoming more competetive.
Four police officers and three journalists were injured when police tried to remove roadblocks of flaming tires set up as part of the protest, and were met with a barrage of missiles fired by the miners, the regional office of the Interior Ministry said in a statement.
Police responded with rubber bullets and tear gas.
One journalist was taken to the hospital with a chest injury caused by a rubber bullet, and a policeman received medical treatment after a ball bearing smashed through his visor. Three other policemen were treated for burns caused by skyrocket fireworks fired through lengths of pipe held shoulder high, and two journalists suffered minor cuts and bruises, according to a statement released by the Ministry of the Interior.