Spain's Ministry of Education to publish University fees in July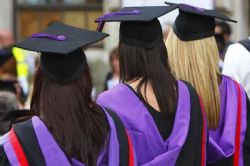 University tuition fees for the next academic year will be published in July, according to a recent report by the Ministry of Education.
Students who have recieved less than 55% in their college entrance exam will have to pay for their fees in full, with those who are unable to reach 60% being unable to qualify for a monthly living allowance to support the during their time at University.
The report goes on to say how each of the regions will be able to set their own university tuition fees, with the regions of Andalucia and Pais Vasco having already agreed to set their fees in line with the current rate of inflation.
The regions of Murcia, Galicia and Asturias have reported how they will set their fees at the lowest possible level permitted by the recent Royal Decree applying to the restructuring of University fees.
Meanwhile, the region of Aragon will allow their Universities to set their fees themselves.
Those taking both undergraduate and master's degrees will be required to pay 15 to 25% of their tuition fees, even where they achieved more than 55% in their entrance exams.