Minister confirms Corvera airport to be open by October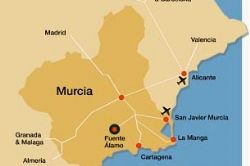 The Minister of Public Works for the region of Murcia, Antonio Sevilla, has reiterated the comments made by President Valcarcel earlier in the week, that Corvera International Airport Will be operational by October .
The Minister said how it was too earlier to announce an exact date due to the complexity of proceedings, but that this did not imply that there were any problems.
Upon being asked about the issue of reclassifying airspace around the airport, Sevilla pointed out that Barajas airport in Madrid shares airspace with the nearbyMilitary airport of Torrejón without any major issue.
Last week the Minsitry of Defence appointed Colonel Emilio Gracia to oversee the project of reclassifying and coordinating the airspace between Murcia's San Javier and Corvera airports.