Spain Not Home And Dry Yet As Croatia Beckons Euro 2012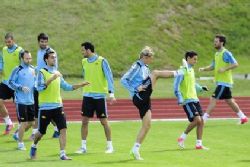 Spain's position in Group C of Euro 2012 looks comfortable, but could all come undone as they prepare to take on fellow group contenders Croatia in their final group qualifying match.
Having beaten Ireland 4-0 in an incredible match last week, the Spanish favorites claimed their stake over the group top spot. However, Croatia has it all to do currently hanging on to the second qualifying spot in the group.
Croatia know that a loss to Spain will mean their only real chance of qualifying for the quarter final will depend on an Irish win over Italy a draw or at the very least a win by Italy by no more than 1 goal meaning goal difference would be in Croatia's favour. Ireland is already going home as they have been unable to score any points in the group.
If Croatia managed to pull off the unthinkable and win against Spain, the defending champions could be on their way home should Italy win against Ireland. Spain, Croatia and Italy are all eager to win their final matches and know qualification to the next round is not yet guaranteed.
The winner and runner up in Group C will take in the winner and runner up of Group D.
England fans will be watching with great interest tonight's matches as they know, should England qualify in Group D tomorrow, their next match could be a classic showdown against Spain.