Spain Through To Quarters England Showdown Likely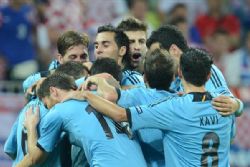 Spain secured the top spot in Group C of Euro 2012 and clinched the 5th quarter final place ahead of Italy after a 1-0 win over fellow contenders Croatia last night.
At times, Croatia looked to be the stronger side as several early opportunities were missed and Iker Casillas, captain and goalkeeper for Spain, proved why he is considered by many as one of the best goalkeepers in the world by preventing any goals slipping past him.
The Croatian side learned early on that Italy had scored against Ireland which effectively meant Croatia were on their way home unless they could pull off the unthinkable and win against the current European and World champions.
Alas, it was not to be. Late into the 2nd half a dubious goal, setup by Spain's Iniesta and executed by Jesus Navas, secured Croatia's fate and ultimate exit from the Euros.
At full time the group standings meant Spain topped the group, Italy bagged second with Croatia third and Ireland forth.
Tonight sees the final matches of Group D with England looking to secure their passage into the quarter finals.
Should England come second in the group which most pundits are predicting, their quarter final match would be against Spain on Saturday, 23rd June 2012. Kick off 20.45 Central European Time (19.45 BST)