Crop Thefts Increase As Crisis Deepens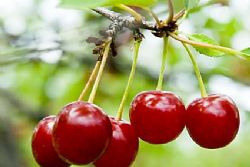 Several farmers and landowners across Spain are finding themselves victims of an increase in crop thefts which are sweeping the country.
As prices they receive for their produce has been falling over recent years, this has not been reflected at the checkouts for shoppers, meaning many farmers are struggling to fight off criminals who are targeting their livelihoods in search of wealth and sustenance.
Fox News has reported how cherry farmers around Barcelona are experiencing high levels of theft from their crops. The criminals in most cases are selling their haul to make money as the worse financial crisis in history bites even deeper.
But it seems cherries are not the only crop of choice for criminals. Fruit and vegetable farmers across the country are reporting thefts of everything from onions to olives. Black market prices are much cheaper than the supermarkets, which is much more favorable to hard up Spaniards just trying to survive.
Police have resorted to patrolling agricultural areas on horseback hoping to catch the green fingered tea leaves in the act. Farmers have taken drastic measures also by digging trenches on access roads, releasing dogs into fields and in some cases farmers are taking it in turns to sleep under the stars in an effort to protect their hard worked for crops.