Union leader questions viability of Corvera Airport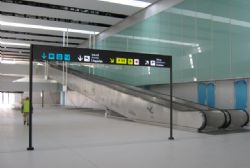 The Secretary General of the UGT in Murcia has responded to the promises made by President Valcarcel last week that Corvera Airport will be operational by October.
Nicolas Carrion acknowledged that the project had seen a number of setbacks, but that the airport should be operational by now as it simply made no sense that a total of 300 million euros had been invested, that construction had been completed and yet the facility was allowed to remain unoperational.
According to Europa Press the exact status of the airport is currently uncertain, with opinion changing every day on issues such as the reclassification of airspace, and on compensation payments due to paid to San Javier airport.
The Secretary also criticised regional politicians for misleading the local residents by speaking of guarantees of jobs for the 500 workers at San Javier Airport, and the creation of a further 20'000 new jobs.
Even the central Government have commented that it is too early to give an opening date for Corvera : After the original opening date of May 2012 was missed, will the new October deadline be another embarrassing false start ?
With regards to the issue of airspace, the Ministry notes that the new airport falls within the control area of ​​the San Javier air base and therefore in an area restricted by the Military.The Government notes that this makes things complicated from an air traffic control perspective.
Surely this is something that should have been addressed at the very point that the location of Corvera was being proposed as a potential site for the new airport - not prior to opening ?