Goal Line Technology Argument Reignited As England Make Quarters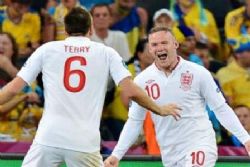 England progressed through to the quarter finals of Euro 2012 with a controversial 1-0 win against fellow Group D contenders and co-hosts Ukraine, who together with their fans have criticized officials by not allowing their equalizing goal and re-igniting the arguments in favor of goal line technology.
Marco Devic's denied goal clearly went over the line despite some impressive acrobatics by England defender John Terry preventing the ball hitting the back of the net. The goal line official in position to spot these types of events, failed to allow the goal which inevitably sealed the fate for the Ukrainian team.
In a bizarre twist, England is usually the victim of such events and has always campaigned for goal line technology to be introduced. Most recently Frank Lampard was denied a goal against Germany in World Cup 2010 when his shot bounced off the crossbar behind the goal line. That denied goal and together with some dubious decisions by the referee, saw England crash out of the competition.
According to the Independent, the highly controversial FIFA president, Sepp Blatter, has declared that 'goal line technology is a necessity', however UEFA boss Michel Platini is not a fan of technology and believes that technology will inevitably over run the game.
However, with so much money, national pride and honor involved, football's governing bodies are proving themselves more and more incompetent by failing to embrace technology.
With so much at stake, leaving match decisions to referees and assistants without the assistance of technology can dramatically alter the direction of a match for which there is no redress or instant correction.
Incredibly, Group D losers Sweden pulled of an amazing and less controversial 2-0 win over France. Even though the French team was clearly out of their depths and weak everywhere on the pitch, they still managed to qualify for the quarter finals, ending runners up in the group meaning they will now face Spain instead of a much anticipated England v Spain showdown.