Spain says Italian rescue fund proposal "intelligent"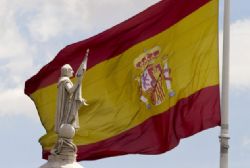 A potentially controversial Italian proposal for the euro zone's rescue funds to start buying the debt of stricken euro zone countries is "intelligent", Spanish Foreign Minister Josť Manuel Garcia-Margallo said on Wednesday.
Asked if Spain will formally request bank aid on Thursday at the Eurogroup meeting, he told reporters: "We will need to wait for the assessment of independent auditors tomorrow and compare that to the findings of IMF deciding what to do next."
"I think there needs to be an intervention in secondary markets of public debts," he added, without elaborating.
Italian officials have said their plan, which is aimed at lowering the financing costs of countries such as Spain and Italy, would be discussed at a meeting of finance ministers this week.