Spain may need 62 bln euro to rescue banks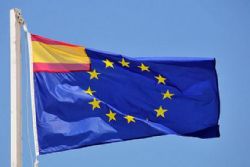 Spain's banks would need between €51 billion and €62 billion euros in extra capital to weather a serious downturn in the economy, independent audits showed on Thursday, paving the way for a European aid package of up to €100 billion euros.
The Spanish government will use the reports by consultancies Roland Berger and Oliver Wyman to determine how much aid would be needed to reacapitalise its ailing lenders.
"The (capital needs) are lower than the amount agreed on with the Eurogroup to give security and confidence to markets, with enough room to carry out the restructuring," Fernando Restoy, deputy governor of the Bank of Spain and head of bank restructuring fund FROB, told a news conference.
Madrid has still to formally apply for the euro zone loans offered to shore up a banking sector battered by a 4-year property slump and a deep recession, with one in four Spanish workers out of a job.
Doubts about the economy and the banks have moved to the centre of a long-running euro zone debt crisis, forcing the Treasury to pay its highest yield since 1997 to sell less than a billion euros of 5-year debt on Thursday.
The auditors' findings were based on an adverse economic scenario which set a core tier one capital requirement for banks at 6% if GDP shrank by 4.1% this year and 2.1% next year.
The IMF has a base-line forecast for an economic contraction of 1.7% for this year and a further 0.3% in 2013.
The government said it did not expect to shut down any banks and preferred to restructure those in difficulty. However, European Competition Commission Joaquin Almunia, who has to authorise state aid to business under EU competition law, has said at least one bank may have to be wound down.
Credit ratings agency Standard & Poor's said in a report on Thursday that the facility to support the Spanish financial system is enough to cover potential capital needs for 2012-2013, but uncertainty remains over the details.
The audit said Spain's three biggest banks - Banco Santander , BBVA and Caixabank - would not need extra capital even in a stressed scenario. It said the problems were limited to a small group of Spanish banks for which the state has already started to act.
"Everything seems to indicate that additional capital needs will be concentrated in banks that have already been taken over by the FROB," Restoy said.
The economy ministry said the audit was the first step in evaluating the banks. A more detailed study would come in September.