Banks exploting loophole in law at expense of evicted homeowners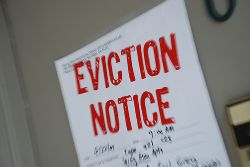 It is almost 1 year since the Central Government bowed to public pressure to approve a new Royal Decree and bring changes to Mortgage Foreclosure laws.
The new law increases the minimum amount that lenders had to pay to keep foreclosed homes, thereby leaving the evicted owners responsible for a smaller percentage of the deficit.
Prior to this change to the law, if there were no bidders at the auction of a foreclosed property - which is increasingly common - the bank could choose to keep the property for 50% of its appraisal value.
Ther reform to the law now raises this to 60%.
However, a number of Banks are exploiting a loophole in this new law to make savings at the expense of the evicted homeowner. By ensuring that a bid is forthcoming from one of the Bank's own subsidiary companies, the 50% value needs to be paid as opposed to the higher amount.
The legal reform only applies to properties that are the owner's regular residence, not holiday homes, which means that banks using this tactic are exploiting those who usually have no other assets to sell other than main home.
Since the crisis began there have been over 150,000 foreclosures in Spain, with a further300,000 pending.
The Banks are therefore essentially buying the property from themselves at 50% of it's value to resell later through a subsidiary property company at a profit, funded largely by the former owner of the property.
When the law was modified a year ago, article 670.4 was left untouched, probably an oversight on the lawmaker's part.
"All it takes is a change to this article to establish a 60% minimum, and I propose doing that." Ramón Falcón y Tella, a professor of financial and tax law at Complutense University in Madrid, says he understands that financial entities need help and protection given the difficulties they are experiencing, but he also thinks this practice is a legal incongruity that makes the reform useless and seriously harms the evictees.
And that 10% gain is not the only advantage for banks, says Falcón y Tella. In order to qualify as a bidder, it is necessary to deposit 20% of the property's appraisal value prior to the auction. But in this case, the subsidiary merely presents a guarantee that has been issued by its parent bank, and may bid at no cost.