House prices in Spain falling at record levels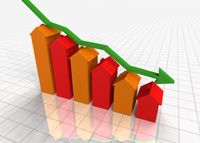 House prices fell by the biggest margin on record in the first quarter of the year on weak demand due to high unemployment and government measures to force banks to write down the value of the property on their books.
According to figures released Thursday by the National Statistics Institute (INE), home prices dropped 12.6% in Q1 from the same period a year earlier. That was the biggest fall since the INE started the current series in 2007. Compared with Q1 of 2011, prices have fallen by 5%.
Prices for new properties during the first quarter fell by 11.8%, while those for existing homes were down 13.3%. Prices have fallen 25.6% from their peak in Q2 of 2007.
Unemployment currently stands at over 24%, more than double the average in the EU.
The jobless rate is set to rise further this year when the government expects the economy to shrink by 1.7%.
"The state of the economy and government measures to force banks to set aside more provisions [for real estate assets] are accelerating the drop in home prices, Bloomberg quoted Fernando Encinar, the head of research at the idealist.com property website as saying. "This trend will continue over coming quarter as homeowners have no other option than to cut asking prices if they want to sell."