De Guindos : 'No way to process rescue funds'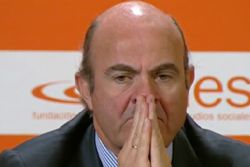 Spain's Economy Minister has confirmed that the first draft memorandum of the bank rescue will be ready by July 9th, although the formal letter of request is due to be submitted on Monday of next week.
The loan to Spain's Bank rescue fund (FROB) to recapitalize the banking industry will probably cost between 3% and 4% in interest payments, and mature in between 5 and 10 years time.
Luis de Guindos, who participated in the ECOFIN meeting (Ministers of Finance of the European Union), also commented more on the loan payment method: "There is currently no instrument available to inject capital directly into the banks, but the process of union bank in Europe has been launched. This process will involve supervision and deposit insurance fund facilities in addition to capitalization instruments. Therefore, the direct injection is not available, but may be in the near future".
The Minister added that "if you consider that possibility, the Spanish Government will need to give it further thought."
After EU leaders decided to offer Spain a rescue package of €100 Billion, paid to the FROB fund, Guindos commented today how that option was not available under current Community legislation, but has opened the door to a change in the near future.
On being asked how the loan would be recieved, Guindos explained that this would require further consideration.