Curse of Penalties Strike England... Again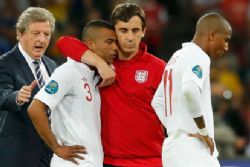 After a nail biting 90 minutes, England fans were subjected to a further 30 minute of anxiety as their quarter final match against Italy last night went into extra time ending goalless and a penalty shootout loomed.
England does not have a very good history with penalty shootouts. Somehow the curse of inevitability always strikes and last night was to prove no exception as the curse struck again leaving England 2-4, sending Italy through to a semi-final against Germany and booking the England team seats on the next flight home.
Italy was on impressive form and demonstrated a European class and quality of football which seems to be sweeping the continent. A quality and class which the England team must capitalize on now if they are to stand any chance in a major tournament.
Nervous England fans across the globe tuned in, once again hopeful this year could be England's year. However, the national team once again failed to deliver leaving fans wondering if they will ever win a major competition in their lifetime.
Could 2014 be England's year in the World Cup? Leave your comments below...