Spain Formally Requests Bailout Funds From Europe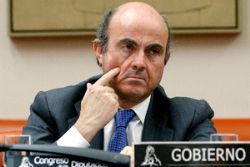 Spanish finance minister, Luis de Guindos, has today formally requested a bailout from its European partners to help recapitalize its ailing domestic banks burdened with bad property debts on their books.
Details are sketchy at this point and no amount has been specified in a letter to the head of the EuroGroup Finance Ministers, Jean-Claude Juncker.
It is expected that Spain will be seeking up to €100bn, although the terms and conditions of the bailout have not been finalized. Luis de Guindos expects to have them in place before the next meeting of the EuroGroup Finance Ministers on 9th July.
Coincidentally, the terms of the bailout to be released on or before the next meeting of the EuroGroup Finance Ministers, coincide with the launch of the ESM (European Stability Mechanism) – Controversial to investors as the mechanism favors repayment of bailout funds before any other debts, including government bonds, moving investors down the pecking order and increasing the risks of not receiving their money back.
Markets are still expecting Spain to require a full Eurozone rescue package much like Greece, Portugal and Ireland. Until the details of the bailout are released, markets are expected to keep on demanding higher risk premiums on government bonds.