Spain's PM would go to Euro final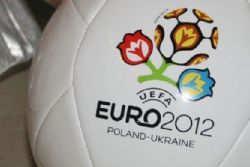 Spain and Portugal would end a boycott of Euro 2012 soccer matches in Ukraine to attend the tournament's final, the Spanish foreign minister said.
Officials from Madrid, Lisbon and other European capitals have boycotted matches held in Ukraine, which is co-hosting the tournament with Poland, over the jailing of former prime minister Yulia Tymoshenko.
She is awaiting trial on tax evasion charges she claims are politically motivated.
Portugal did not immediately comment on whether it would send representatives to the final held on Sunday in the Ukrainian capital, Kiev.
Spain and Portugal play each other in Wednesday's semi-final, and the winner will play either Germany or Italy for the title.
"The (Spanish) prime minister was at the first game and will be at the last," Foreign Minister Jose Manuel Garcia-Margallo said in comments quoted in Spanish media on Monday. Spain's opening Euro 2012 game against Italy was played in Gdansk, Poland.
"The Portuguese have told us they will also be there," Garcia-Margallo said, adding jokingly, "which means they will go with us and they'll be very welcome".
The Spanish prime minister's office did not respond to requests for comment on Monday or Tuesday.
The Portuguese Foreign Ministry could not be reached for comment on Tuesday. Foreign Minister Paulo Portas said before the tournament started that "the event is mostly a sporting one - it should not, in our view, be contaminated by politics". However Portuguese officials have not attended matches in Ukraine.
Garcia-Margallo said Spain had already sent a powerful message by not sending representatives to the Spain-France quarter-final in the Ukrainian city of Donetsk. "It's a sufficiently clear and significant political signal of what we think," he said.
A Ukrainian court on Monday adjourned the trial of Tymoshenko until mid-July, a move that will spare Kiev further negative publicity during the tournament.