Spain and Italy Block EU Summit on Growth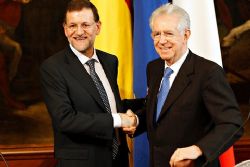 Late last night, Spanish premier Mariano Rajoy and his Italian counterpart Mario Monti blocked an EU wide agreement on measures to promote growth in the bloc amounting to €120 billion.
Both Spain and Italy refused to sign off on the agreement until Germany approved short-term measures to ease their cost of credit as bond markets continue to squeeze both nations with risk premiums and interest rates.
The 11th hour spat in the 20th EU summit since the sovereign debt crisis began in early 2010, forced the meeting to push on into the small hours of Friday morning, causing further tension amongst already frustrated bloc members.
The struggling countries want to see major reform of the emergency funding mechanisms from Europe, in which emergency cash is funneled directly to ailing banks rather than it being piled onto the sovereign balance sheets of the requesting country.
However, German prime minster Angela Merkel has been insistent and under pressure back home that banking reform must occur before any kind of mechanism is put in place and quite rightly so. It's only in times of crisis that the tough decisions are made and propping up failing banks with cash without any kind of serious reform or at least sovereign guarantees would only pave the way for further bailout requests or just delay the inevitable collapse of financial institutions.
Neither Spain nor Italy sees it that way. Their short-term interest is to reduce the cost of borrowing by calming the markets and believe the only way for this to happen is for either the European Central Bank to start buying their bonds or lend directly to banks.
All EU countries are guilty of making the easy, yet unpopular, decisions of cutting public sector jobs, services and funding, whilst leaving reform of banking and financial institutions relatively untouched. As the austerity measures are failing to yield growth anywhere, EU leaders are still leaving reforms well alone and instead focusing on borrowing money to dig themselves out of the crisis hole.
Despite the standoff, there does appear to be an agreement in principle by all member states, subject to some amendments today, where all leaders will ask the EU's top officials to produce a detailed plan by December leading to a complete and genuine economic and monetary union.
Casting further doom on the situation, Finnish Europe Minister Alex Stubb told Reuters that Europe should be prepared to live in a state of economic crisis for the remainder of the decade. However he believes a much stronger and more resilient continent would eventually emerge.