El Hierro Earthquake : Volcano displaces Island by 5cms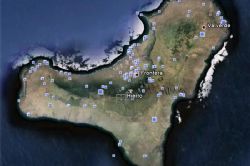 The Nation Institute of Geology (IGN) has now recorded almost 650 earthquakes on the Island of El Hierro since last Sunday night.
The most recent earthquake swarm - which began on the 21st of July last year - was officially declared over in March of this year, but an enhanced level of activity began once again last weekend.
However, the Island is once again on 'yellow alert' for volcanic eruptions after 161 separate earthquakes were recorded on Thursday.
Around 30 of the earthquakes recorded this last week have reached a magnitude of 3.8 on the Richter scale, but with the majority of the activities occurring at depths of 18 to 20kms they have not been felt on the surface.
Yesterday the Director General for the Safety of the Canary Islands confirmed that the surface of the island has now been displaced by between 3 to 5cms.
Read previous news stories about the El Hierro Volcano by clicking the link HERE .