Two Helicopters crash fighting Valencia forest fire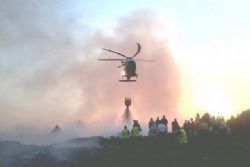 Two helicopters that were helping to extinguish the fire in Valencia in east Spain crashed on Monday afternoon, local media reported.
The pilot of one helicopter, whose identity is still not known, is dead. The pilot was under the employ of the Brigades of Wild fire Reinforcement from the Ministry of Agriculture, Food and Environment.
The causes of both crashes are still unidentified. There are reports the helicopter, which was working on the area of Cortes de Pallas in Valencia, crashed while it was filling up with water next to marshlands in nearby La Forata.
The second helicopter crashed while it was working in Corte de Pallas in Valencia. Both the pilot and copilot on the second Helicopter were suffered serious injuries and were subsequently tranfered to hospital.
This weekends fire has the worst forest fire to happen in more than 20 years and has already destroyed over 50,000 hectares of land.
To date almost 2,000 residents in the vacinity of the firs have been evacuated, whislt 2,000 firefighters and 30 aircraft are working around the clock to extinguish the fire.