Spain to take extra steps to meet deficit targets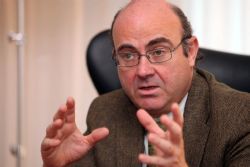 Spain's government will pass additional measures in order to achieve its annual deficit target, Economy Minister Luis de Guindos said on Tuesday.
"(We) will make additional efforts to guarantee our deficit reduction objectives," de Guindos said at an event in Madrid.
Spain said it would reduce its public deficit to 5.8% of its GDP from 8.9% in 2011 but figures for the first 5 months of the year, released last week, showed this objective is unattainable without new measures. The government said it was considering raising consumer, energy and property taxes to make up for the shortfall.
After Finland and the Netherlands cast doubt on Monday on a European summit deal designed to save Spain and Italy from being engulfed by the currency bloc's debt crisis, de Guindos said individual countries had no capacity to block such agreements.
He said so-called "bad banks", where toxic real estate assets are parked to later be sold off, would form part of the memorandum of understanding for a European financial assistance due to be signed by July 9.