Spain unemployment falls for a 3rd consecutive month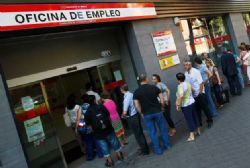 A report issued earlier today by the Ministry of Labour confirmed that June's level of unemployment fell by a greater level than was initially expected, coinciding with the start of the tourist season.
The number of people registered to receive unemployment benefits fell by 98'900 last month in June after falling 30'100 the previous month, surpassing expectations of a fall of 51'600.
In total, unemployment fell by 2.10% from May, where it fell by 0.63% and fell from 12.52% to 11.97%.
June marked the 3rd consecutive month of falling unemployment levels, from 4,714,122 in May to 4,615,269 last month.
Spain's continued recession means that unemployment continues to be a problem, with the economy likely to shrink for yet another quarter in Q2 of the year.
However, figure released separately by the National Institute of Statistics (INE) generally differ from those released by the Ministry of Labour as the number of people eligible to claim unemployment benefits, and those finding themselves without work but unable to claim anything are different.