Brit Arrested In Europe's Biggest Marijuana Plantation Find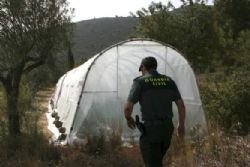 A British man, along with an 18 year old Spanish man has been arrested in a Guardia Civil raid in the sleepy town of Lliber, on a farm in the eastern Spanish province of Alicante.
The 45 year old Brit, identified only by his initials BAH, has been remanded in custody. Investigations are ongoing into the case, which has been labeled as Europe's largest marijuana plantation/farm ever found.
Guardia Civil officers were tipped off after an application to the Lliber Town Hall, made by the man, to create a vegetable plantation had been subsequently turned down. Officials became suspicious that he had already pressed ahead without the necessary permissions and began to gather evidence.
Officers found over 10,000 cannabis plants in 16 greenhouses, 43 kilos of hash processed into half-kilo packets and van with a false floor thought to be used to transport the drugs, thought to be destined for Holland and Belgium.
With a population of around 1,000 residents, Lliber is home to a small but thriving British Ex-pat community who are naturally shocked by the discovery.
Lliber is not often far from the news. Over the past decade, the town has consistently hit the headlines over the 'Illegal Properties Scandal' where many unsuspecting property buyers, usually foreign nationals, have bought properties built without the necessary planning permissions. Several ex-mayors, developers and promoters have been imprisoned whilst the town has received officials and MP's from the European Commission keen to put an end to the nightmares being faced by residents.
The surrounding towns of Jalon, Alcalali and Senija where other ex-pat communities are based are also coming to terms with the find.
Tumbit Director Dan Wells, who lives in Lliber, was shocked to hear the news. "This is a quiet little hamlet in the middle of nowhere". "Very little happens here apart from hearing the developments over the Illegal Properties Scandal, why on earth anyone would try to do this, let alone hope to get away with it, is beyond me!"
Officers are hopeful of more arrests as there was a considerable amount of IT and telecoms equipment found within the luxury villa on the plot which may produce further leads.
Do you know the people involved? Can you share any further information with us? Contact us