Murcia Opposition party demand answers on Corvera Airport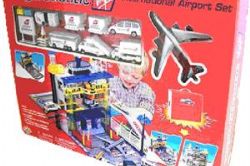 Murcia's Green party yesterday called for the Regional Minister of Public Works and Planning, Antonio Sevilla, to address the Regional Assembly to update the house on current status of the opening of Corvera airport.
Last month both Sevilla and President Valcarcel separately confirmed to the press that the airport will be operational by October , however no further details have been forthcoming.
The Head of the IU-Verdes, José Manuel López, demanded to know what the risk was to the residents of Murcia in the regional Government losing the investment made on their behalf.
López said also said how if Sacyr (the developer and major shareholder in the operators of airport, Aeromur) were to abandon the project then it would effectively mean that the project would not and could not move forwards.
Earlier this year Sacryr had to be 'rescued' with a loan of 4.9 Billion Euros by selling some of their 20% stake in Repsol back to the company.
Since then Repsol profits have been affected, and share prices have fallen following Argentina's seizure of their assets in South America.
Lopez also asked that Sevilla report back on the situation between the Ministry of Defence and NATO, with regards to the on-going speculation that the required air access to Corvera aiport will not be released by the Military , who will still operate from San Javier airport.