Aqualandia buys Terra Mitica : Where now for Paramount ?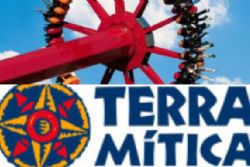 Last week's statement by the developer and promoter of the Paramount Pictures theme park at Alhama de Murcia - where he guaranteed that construction on the park will commence in October - has attracted much criticism from the public given that the group has yet to secure the required funding from investors.
Many would be forgiven for thinking that this, together with on-going rumours of the the impending closure of Parque Warner in Madrid , does not bode well for the future of the theme park and attractions sector in Spain.
However, things took a turn for the worse this week when Aqualandia acquired a 70.76% share of Benidorm's Terra Mitica theme park.
The €65 million deal saw Banco Sabadell (Through their recent acquisition of CAM) and Bankia selling of their 49% stake, and the while the Generalitat Valenciana selling their 22.31% of their majority stake, keeping a 29.24% stake in the venture. Speculation is that this is simply to allow them to 'cash in' on the possible sale of the land if the Theme Park was to fold.
Aqualandia's bid succeeded over Parques Reunido - the company who will eventually operate and manage the Paramount theme park once open.
Terra Mitica opened in 2000, however it soon became apparent that it was little more than the brainchild of over-enthusiastic regional politicians, developers and bankers and a lack of visitors meant that many of planned attractions were never built.
Shareholder - including Paramount - have come and gone over the years and have had little impact. The Park leaves debts believed to be in excess of €45 million.
Maybe the investors originally expected to fund the Paramount project are having second thoughts ?