Spain borrowing costs grow as Ireland returns to the market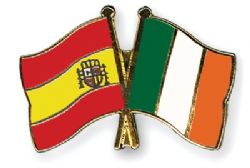 Ireland returned to short-term debt markets on Thursday for the first time since before its EU/IMF bailout in November 2010, paying less for 3 month paper than Spain which has avoided going to international lenders for a full sovereign rescue.
International appetite for debt auctions held by the 2 countries - both victims of banking crises caused by a property market crash - varied widely, although Dublin's first commercial borrowing in almost 2 years was much more modest in size than Madrid's.
Whereas Ireland trumpeted international demand at its sale of 3 month treasury bills, most foreign investors are shunning Spain's debt auctions, even though Madrid has avoided going to international lenders for a full sovereign bailout.
The Spanish Treasury paid the highest rate in over 7 months to borrow 10-year funds, suggesting the positive effect of last weekend's agreement by euro zone leaders is wearing off.
Altogether, Madrid auctioned €3 billion in 3 maturities of bonds. It sold €747 million in the benchmark 10-year bonds at an average yield of 6.43%, up from 6.044% at the last such auction on June 7.
Peter Chatwell, a rate strategist at Credit Agricole, said that at least Spain was still able to raise funds in the market - despite the problems of its banks, many of which have been brought to their knees by heavy lending to failed property projects and a 2nd recession since 2009.
"The market continues to function, but on this evidence there is still no significant change in sentiment or investor demand towards Spanish debt," said Chatwell.
Altogether 3 euro zone governments auctioned debt on Thursday morning, shortly before the ECB cut interest rates.
French borrowing costs held close to historic lows at its auction on Thursday of €7.8 billion of bonds, a day after it announced hefty tax rises on the wealthy to plug a revenue shortfall caused by flagging economic growth.
"Sentiment-wise, France is a world apart from the woes of Spain and Italy," said Nicholas Spiro of consultancy Spiro Sovereign Strategy.
HELPING SPAIN
At a Brussels summit, the euro zone leaders agreed to let the bloc's EFSF and ESM bailout funds buy bonds in secondary markets and directly recapitalise banks.
This should help Madrid to rescue its banks without suffering the fate of Ireland, which had to take a full bailout of the state in November 2010 and impose punishing austerity policies demanded by the EU and IMF.
Spain secured EU aid of up to €100 billion last month earmarked for rescuing banks. However, both this and the Brussels deal are short on details, and Finnish reservations have dampened the initial positive reactions.
With Madrid struggling to meet targets for cutting its budget deficit, investors remain worried that Spain, the euro zone's fourth-biggest economy, will eventually join Ireland, Greece, Portugal and Cyprus in needing a sovereign bailout.
"Irrespective of the (bank) bail-out - which has yet to be finalised - Spain is caught in a pernicious circle," said Spiro. "The weakness of public finances, the depth of the downturn and the vulnerability of parts of the banking sector are all feeding on each other. That the government plans yet more austerity will only make matters worse in the short-term."
Domestic banks - including some in line for bailout funds - have been the main buyers at Spanish bond auctions since the ECB injected nearly €1 trillion of cheap credit in December and February into liquidity-starved lenders.
Some "fast money" players such as hedge funds piled into the market after the Brussels summit to close out bets on Spanish bonds falling further. However, traders say they have not seen any buying of the paper from longer-term foreign investors.
Spanish banks raised their holdings of domestic sovereign debt to from 16.9% of the total in circulation in December to 29.2% in March.
FOREIGNERS BACK IRELAND
By contrast, Ireland said foreign investors had backed its return to short-term debt markets on Thursday.
In a tentative first step following a nearly two-year hiatus, Ireland sold €500 million of treasury bills at an average yield of 1.8%. It said it hoped to return to long-term debt markets with a syndicated issue later this year or early next year at a maturity of 2 years or more.
Ireland's 1.8% compared with Spain's sale last week of 3 month debt at an average yield of 2.36%, while fellow struggler Italy had to pay 2.96% to auction six-month paper a day later.
Ireland's National Treasury Management Agency (NTMA) said the auction was 2.8 times subscribed and that while it did not have precise figures, there was strong evidence that the vast bulk was distributed in continental Europe.
The agency's chief executive, John Corrigan, said Dublin had to stick to the terms of its bailout deal and hope the "wider mood music in Europe" improves before it issues long-term debt.
"We are encouraged by the strong demand and the presence of significant international interest in today's auction. However, we are conscious that this is only the first step towards our ultimate goal of full access to the capital markets," he said.
Corrigan said Ireland hoped to hold 3 or 4 more short-term auctions this year with the aim of returning to long-term debt markets in a 2 year plus issue in early 2013.
He told RTE radio that Dublin had to stick to the terms of its bailout deal under the watchful eye of inspectors from the "troika" - the European Commission, ECB and IMF - but much also depended on the wider euro zone crisis.
"Accessing the longer-term bond markets is critically dependent on 2 factors: 1 of which is largely within our own control, that's sticking to the troika programme, and the 2nd one is the wider mood music in Europe, which in fairness has significantly improved since the summit at the weekend," he said.
Ireland, unlike the rest of the bailout club, was able to deliver modest economic growth last year amid turmoil across the euro zone. Analysts have cautioned that the real test for the NTMA will be maintaining regular access to the market without another twist in the euro zone's debt crisis forcing a damaging withdrawal.
"Ireland is hardly out of the woods. Domestic demand continues to contract, the fiscal deficit was 13% of GDP last year, and the economy is expected to more or less stagnate this year," said Spiro.
Yields on benchmark Irish 2020 bonds have fallen by almost 100 basis points since the summit and were almost 30 basis points lower than their Spanish counterparts at 6.27% before of the auction, little changed from Wednesday.