Spain says new steps to meet deficit due in days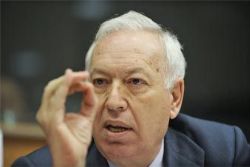 The Spanish government will announce new measures to help it meet its deficit target in a matter of days, Foreign Minister Jose Manuel Margallo said on Thursday.
"Have no doubt that in order to meet the (deficit) target we've set out, and which the markets oblige us to meet ... that you will have concrete measures in just a few days," Margallo said in an interview on state television.
Sources have told Reuters that Madrid is putting finishing touches to an up to 30 billion euro (24.38 billion pounds) package of spending cuts and tax hikes to help it meet this year's deficit targets.