Pamplona's San Fermin Fiesta underway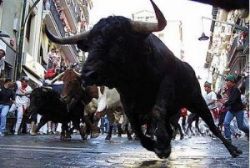 Pamplona's San Fermin Fiesta kicked off earlier today when thousands of spectators and participants of the world-famous bull-running festival packed into the main plaza to shower each other with wine.
The 9 day fiesta began at noon with the traditional shout from the city hall balcony of "Viva San Fermin!", followed by the firing of the 'chupinazo' rocker.
The rocket is the traditional signal to revellers that the fiesta is underway.
The majority of participants wear the traditional 'uniform' of white shirts and trousers and red neckerchiefs and spray each other with red wine and throw eggs and flour.
The first of a series of 8 bull-run's is due to take place at 8 a.m tomorrow morning when hundreds of people race ahead of 6 fighting bulls and 6 bell-tinkling steers - meant to keep them in a tight pack - will charge down the 850mt course from a holding pen to the bull ring at the northern end of the town centre.
The are usually numerous injuries each year in the morning runs, however, the vast majority come from falls as opposed to gorings by the Bulls - 2010's festival saw the first death in 15 years.
The fiesta gained international recognition from Ernest Hemingway's 1926 novel "The Sun Also Rises", and has since attracted tens of thousands of foreigner visitors every year.
This year the Australian Government have remained quiet, with no repeat of the warning they made to their countrymen visiting Spain last year when they warned that participating in the event presented a serious risk to lives.
Perhaps they realised that on balance 1 death in the last 16 years was a much better 'average' than their saftey record, with 17 fatalities caused by shark attacks since 1926.