Direct ESM bank aid needs sovereign guarantee-official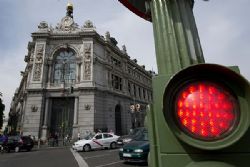 Any risks attached to financial assistance given directly to banks by the euro zone's ESM permanent rescue fund would remain the responsibility of the country requesting it, a senior euro zone official said on Friday.
The official, speaking on condition of anonymity because of the sensitivity of the discussions, said that if the European Stability Mechanism were to take an equity stake in a bank it would only be "against full guarantee by the sovereign concerned".
"There is some degree of mystification going on here ... in the broader public who think that under current rules the ESM could all of a sudden end up owning Bankia with the full risk of Bankia on the balance sheet of the ESM," he said, referring to the Spanish lender. "This is very much not the case.
"Does it still remain the risk of the sovereign or does it become the risk of the ESM? It remains the risk of the sovereign because you have the counter guarantee of the sovereign."
He later signalled, however, that this may change once a new supervisory structure for banks were put in place.
"In the very distant future ... if we have a single euro zone supervisor supervising all banks ... if there were to be direct bank recapitalisation would this still require a counter guarantee of the sovereign, my understanding is that it would not," he said.
The official said that the benefit of lending directly to banks would be that it would not add to the country's national debt. "It cuts out the effect of that loan on the debt to GDP ratio for the sovereign," he said.
He said there would be a political endorsement of a rescue for Spain's banks but no final agreement on Monday when euro zone finance ministers meet in Brussels.