Euro zone won't decide on Spain banks Monday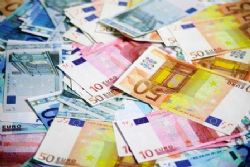 Euro zone finance ministers will not make a decision at their meeting next Monday on aid for the Spanish banking sector, as there is no report yet available from the "troika" inspectors, Germany's finance ministry said on Friday.
"So far we have no report on the table, so there won't be any decision on Monday," said finance ministry spokesman Martin Kotthaus.
The signature of a Memorandum of Understanding for up to 100 billion euros of aid for Spain's banks was originally scheduled for next Monday, when finance ministers from the 17 countries in the currency bloc hold their monthly meeting in Brussels.
But the date for the final agreement has slipped, reportedly to July 20, to allow more time for negotiations.