Legionella outbreak hits Calpe hotel (again !)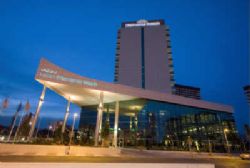 The Department of Health has reported three new cases of Legionaires disease at the Diamante Beach Hotel in Calpe.
This follows an outbreak at the same Hotel in February of this year which caused the deaths of 2 foreign visitors and the hospitalisation of a further 10.
The regional Minister of Health confirmed that this now takes the total number of those effected in this second outbreak up to 11 : 4 are Belgian - of which 3 of them have already returned home - 4 of them are local residents and a further 3 of them are residents of the region.
The Minister went on to highlight that this latest outbreak was 'isolated' and that the town has 'taken all reasonable steps' to control the spread of the infection.