Spain says to announce regional debt mechanism soon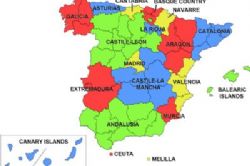 Spain will give details this week or next of a debt instrument created to help its regions - which face prohibitively high premiums in open markets - raise cash and repay bonds, a government official said on Monday.
Turbulence in financial markets which has pushed Spain's benchmark 10-year bond yields to euro-era highs on fears it will be the next euro zone country to require aid has delayed the project, public administration secretary Antonio Beteta said.
"If everything goes as expected in the Eurogroup and Ecofin meetings this week, you may see an instrument for the regions this Thursday, in which case it'll be taken to this or next week's cabinet meeting," he said.
Euro zone finance ministers are due to meet later on Monday while a wider gathering of EU finance chiefs on Tuesday is set to ease deficit goals set for Madrid.
Madrid has applied for aid of up to €100 billion to recapitalise some of its banks, hit by a burst property bubble. B u t the government's struggle to reduce its massive deficit during a deep recession has also raised fears the country will eventually need a sovereign bailout.
Spain's 17 autonomous regions, largely responsible for the country missing its deficit target by a wide margin in 2011, need to refinance some €36 billion of debt this year, but investor nerves have made it tough for them to raise money.
The government has debated either mutualising regional debt by issuing so-called "hispanobonos", or providing state guarantees for each region's bonds.