Spain's ruling party wants 24 to testify on Bankia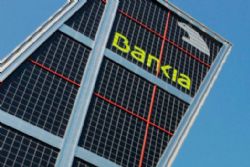 Spain's ruling People's Party has asked 24 politicians and former Bankia executives including ex-chairman Rodrigo Rato to appear before parliament this month to explain problems leading up to the troubled lender's state rescue.
Bankia is at the heart of a crisis that could push Spain to ask for a bailout. It has asked for a €19 billion state rescue and former executives of the lender are being investigated for fraud.
Rodrigo Rato - one-time IMF chief who resigned from Bankia in May - had asked to speak before parliament to defend himself against the charges earlier on Tuesday, when he also quit the International Airlines Group's board of directors.
Economy Minister Luis de Guindos, Socialist predecessors Elena Salgado and Pedro Solbes and former Bank of Spain governor Miguel Angel Fernandez Ordonez have also been asked to testify on Bankia, parliamentary spokesman Alfonso Alonso said.
Meanwhile, Spain's high court accepted a new lawsuit against former executives of Bankia and combined it with an existing judicial investigation, court sources said.
The new complaint was filed by a protest movement known as the "indignados," which has criticised the government's handling of Spain's economic crisis and billions of euros of state funds sunk into wobbling banks.
The court is expected to group together a number of pending cases against Bankia, as outrage grows over the state rescue of the bank, which launched on the stock market last year and whose shareholders have lost most of the value of their investment.
A Bankia spokesman said the bank had no comment about the new lawsuit, which investigating magistrate Fernando Andreu has combined with an earlier lawsuit brought by one of Spain's smaller political parties, UPyD.
The UPyD complaint accuses 33 Bankia officials including Rato, a former government minister, of fraud, price-fixing and falsifying accounts.
Rato and the other officials have not been formally charged with any crime since the case is still in an investigative stage. In Spain, magistrates investigate legal cases much like prosecutors do in the British or American justice systems, and then decide whether to bring charges.
"Our goal is the true defence of citizens, whether small savers tricked into buying shares or citizens suffering from cutbacks after multi-billion cash injections into this banking cadaver," 15mpaRato, the offshoot of the Indignados movement, which filed the latest complaint, said on Twitter.
Under Spanish law, the crimes the bankers are accused of carry jail sentences ranging from 6 months to 6 years. Commentators have said while corporate corruption cases made headlines in Spain, they rarely resulted in convictions.
Bankia, at the heart of a banking crisis that could push Spain to ask for a bailout, has asked for a €19 billion state rescue.